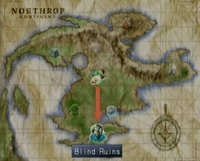 Blind Ruins is a ruin of an ancient civilization. It's located in a jungle south of Pannam Town and was one of the several ruins Mag Launcher explored to pay off his family's massive debt. Like all of the Ruins in the Northrop Continent, the layout of Blind Ruins is randomly generated and is different during each visit.
The higher levels are made from stone, however, the lower floors become aquatic in nature, with glass walls revealing water down below.
The lowest level is guarded by a large amphibian/lizard hybrid called Mandasks. It's long tongue is capable of paralyzing and it can crush foes under it's massive weight. Mag Launcher and his companions defeated Mandasks at some point, claiming the artifact it was protecting. Mandasks, upon defeat, shrank and ran away.
In Evolution Worlds for the Nintendo Gamecube, the ruins have been shrunk. The ruins no longer have an aquatic underlevel, and the boss is the first of the entire game.
Enemies: Hydra, Teio Roach, Paleo Calinoides, Popo Tribesman, Big Ben.
Items: Naolin, Ice Ball, Fire Ball, Fancy Sandals, Herb, Trap Search, Thermo Search, Item Search.
Traps: 50% HP restoration, explosion, confusion gas, map erase.
Ad blocker interference detected!
Wikia is a free-to-use site that makes money from advertising. We have a modified experience for viewers using ad blockers

Wikia is not accessible if you've made further modifications. Remove the custom ad blocker rule(s) and the page will load as expected.