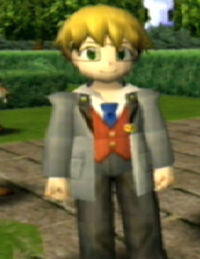 Keeno is a researcher for The Society Museum in Museville. He will purchase appraisal items from adventurers. He is similar to Nop in this regard.
Keeno can be found working next to Lisa at the front desk in the Society building. His services were still available to Mag Launcher when Yurka stole the orbs from Whitehead. During this time, Keeno could be found in the courtyard.
It is said that Yuko, who works in the Museum is attracted to him, however he is oblivious to it. He has a habit of fiddling with his glasses.
Keeno's character model is identical to several other male Society employees in Museville.
Ad blocker interference detected!
Wikia is a free-to-use site that makes money from advertising. We have a modified experience for viewers using ad blockers

Wikia is not accessible if you've made further modifications. Remove the custom ad blocker rule(s) and the page will load as expected.