The Red Wolves
are a group of bandits led by
Carcano
. Their secret base of operations is located in Pine Village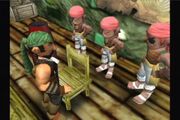 . Their only target is the
Appraisal Items
and artificats held by
The Society
. Their objective is not to kill or injure, but only to steal. They do not target the townspeople, and because of this they are on good terms with the residents of
Museville
, where they are the subject of many local legends at the Bar Royale and sought after by women.
Ad blocker interference detected!
Wikia is a free-to-use site that makes money from advertising. We have a modified experience for viewers using ad blockers

Wikia is not accessible if you've made further modifications. Remove the custom ad blocker rule(s) and the page will load as expected.